Our People Are Our Competitive Edge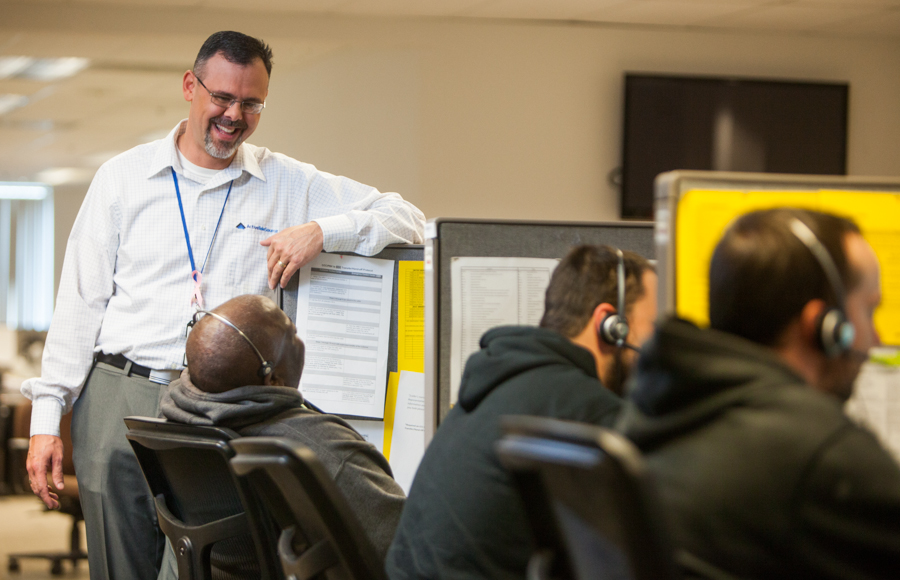 Company History
Since its formation in 1997, Active TeleSource has focused on building a center of excellence in customer care working with leaders in regulated industries. This approach has driven the company to invest in developing the people, the technology, systems and processes that meet the unique requirements of organizations that have high standards of state and federal compliance.
Active Telesource headquarters is located in Portland Oregon with a strong U.S. based remote (WFH) workforce in multiple states.
The Active TeleSource Excellence Program
Active TeleSource is proud of our culture of accountability and commitment to quality. The company wide Service Excellence program trains  team members to focus on the customer experience, above typical client scorecards. It recognizes and supports agents who exemplify the Active TeleSource Elements of Service Excellence that increases customer satisfaction during each call.
Management Team
   Goran Samojlovski – President
Goran has over 30 years of call center Operations and Management in Business and Financial industries. He brings vision and leadership to Active TeleSource, and participates in a variety of contact center and customer service related groups and legislative committees.
In 1997, he and co-founder Gary Clark formed Active TeleSource; a customer-centric, outsourced contact center. Relying on the people skills refined over a 30-year career, he has compiled a highly competent operations management team with the technical ability to function seamlessly as First-Party responders for clients. The result of Goran & Gary's efforts is a cohesive, teamwork environment with a culture that fosters creativity, integrity, and results.
Besides enjoying time with his family, Goran can be found at various rinks in Portland still playing recreational ice and roller hockey. "Playing hockey most of my life taught me the importance of teamwork, chemistry and working with others to achieve a common goal. All the core ingredients of running a successful business and maintaining successful relationships".
   Gary L. Clark – Vice President
Gary has over 25 years of real world experience in Workflow Automation through Systems Design, Software Engineering, and Software Development. Gary has a strong history in Systems Integration and Computer Telephony and can create solutions for any custom client contact strategy or customer service support program. Gary has extensive experience in the various development languages within the Microsoft ® environment and is actively engaged in the continuous improvement and development of processes at Active Telesource.
Gary has a number of activities he enjoys outside of the business.  Whether its skiing and snowboarding in the winter months or motorcycling, cycling and camping in the summer months…he likes to stay active.  Whenever possible he also enjoys traveling for fun and adventure, and is a big Pittsburgh Steelers fan!
  Jeffrey Croy – VP of Operations
Jeff has over 20 years experience in managing customer care operations in regulated industries. Prior to joining Active TeleSource, Jeff served as Operations Manager for a National credit card bank, responsible for over 250 employees and a $400 million portfolio. Jeff's extensive business experience includes project management, risk management, strategic and tactical planning, and process improvement.  Jeff received his MBA from Marylhurst University and a Bachelor of Arts from Saint Martins College.
Jeff loves the outdoor sports the Northwest has to offer, particularly the mountains for great skiing in the winter and scenic hiking in the summer.  Jeff says – "I enjoyed overcoming challenges. In the outdoors there is always terrain that will test your skills, which can provide a great sense of accomplishment…and sometimes humility."
  Max Hunger – Director of Information Technology
Max began his IT career over 18 years ago providing PC technical customer support for Gateway Computer. He then moved to Pacificorp and worked a variety of IT positions, eventually becoming their server administrator. During this time Max also obtained his Microsoft Certified Solutions Expert certification. In 2002 he came to Active Telesource to run the IT network department and has overseen our many successful network expansions, system designs and network migrations. During Max's tenure, ATI's network has undergone multi-location expansion and sophisticated client interfacing. He is currently working primarily in network projects, security and new technologies.
Max is a technology enthusiast who enjoys finding and experimenting with new technology.  He is also a huge supporter of local sports teams, especially the Portland Timbers.  If he's not tinkering with a gadget you will find him with friends and family cheering on the Timbers or getting ready for his next running event.
  Cari Latham – Director of Professional Development
Cari has over 22 years experience in managing employees and call center operations. Beginning with her first supervisory position for a regional retailer to her current position at ATI, Cari has a true understanding of the total customer life cycle. Cari's management experience in serving multiple clients and customers in first-party and third-party Business Process Outsourcing industries have included collections, utilities, finance and healthcare.
In 2009 Cari joined Active TeleSource to assist the Director of Operations with an onboarding of a large new client. Since that time she has been a key part of the management team working in most aspects of operations and corporate client communications. Cari oversees operational corporate compliance objectives (ie: SSAE 16, Type II) and created and manages our corporate Service Excellence program.
Cari grew up watching football with her father and developed a love for the game and competition.  Her father favored the Rams, but Cari selected the silver and black.  She says "That's how you know I'm a real football fan… I've never wavered… my favorite football team was the Raiders, when I was 8 and it still will be when I'm 80."
  Jason Fincher – Director of Operations
Jason began his customer service and management career over 24 years ago while working in retail, marketing, and sports recruiting. In 2003, he joined Active and quickly demonstrated his management potential. Since that time he has worked as a manager and trainer for many of our customer care projects, eventually becoming our current Senior Operations Manager. In addition to client relationship communications, Jason is responsible for the day-to-day operations of all ATI projects and closely works with all Managers and Supervisors to ensure KPI compliance and customer care excellence.
Jason enjoys spending time outdoors in the beautiful Pacific NW with family and friends. When he can free up some time he likes to visit one the many great golf courses found in the Portland area. Jason explains his passion for golf with a quote from Arnold Palmer who said, "Success in golf, like life, depends less on strength of body, but more on strength of mind and character".